Are you considering making a career switch? Perhaps you've looked into massage therapy, but aren't sure about taking the leap. There are many factors to take into consideration before switching career paths. It is a big move and requires many sacrifices, so it is important to be prepared and certain that it is what you want. One of the main questions people have when considering going into massage therapy is what is a massage therapist's salary? We will discuss various factors that affect how much you can earn in your massage therapy career including geography, types of massage therapy jobs, gratuities, and average earnings for massage therapists working in the United States.
What State Pays the Most for Massage Therapists?
The geographic location of where you practice plays a major role in determining wages for licensed massage therapists. As with any career, there are some parts of the world where you will earn more, and others where you will earn less. According to a government report, the top-paying states for licensed massage therapists are:
New Hampshire — $102,144

Alaska — $98,688

New York — $83,200

West Virginia — $83,200

Washington — $75,008

California — $73,088

North Carolina — $73,088

South Carolina — $73,088

Montana — $73,088

Alabama — $72,960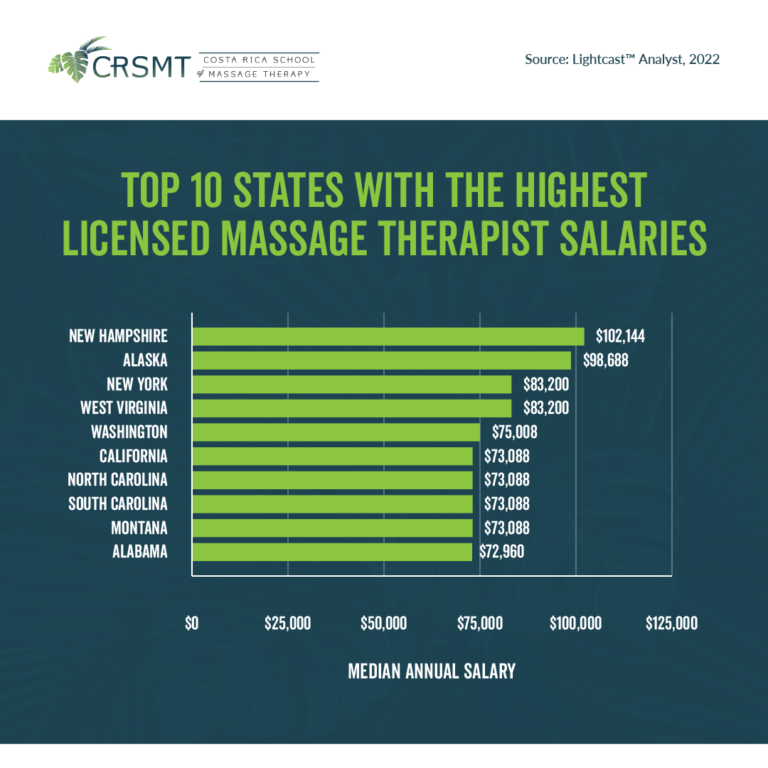 Keep in mind salaries fluctuate between cities and towns depending on many factors that can influence your earning potential as a licensed massage therapist. Some of these factors may include market demand, population size, and predominant demographics. Since market demand is often the driving force in determining field salaries, here's a closer look at the job posting intensity of licensed massage therapists across the United States.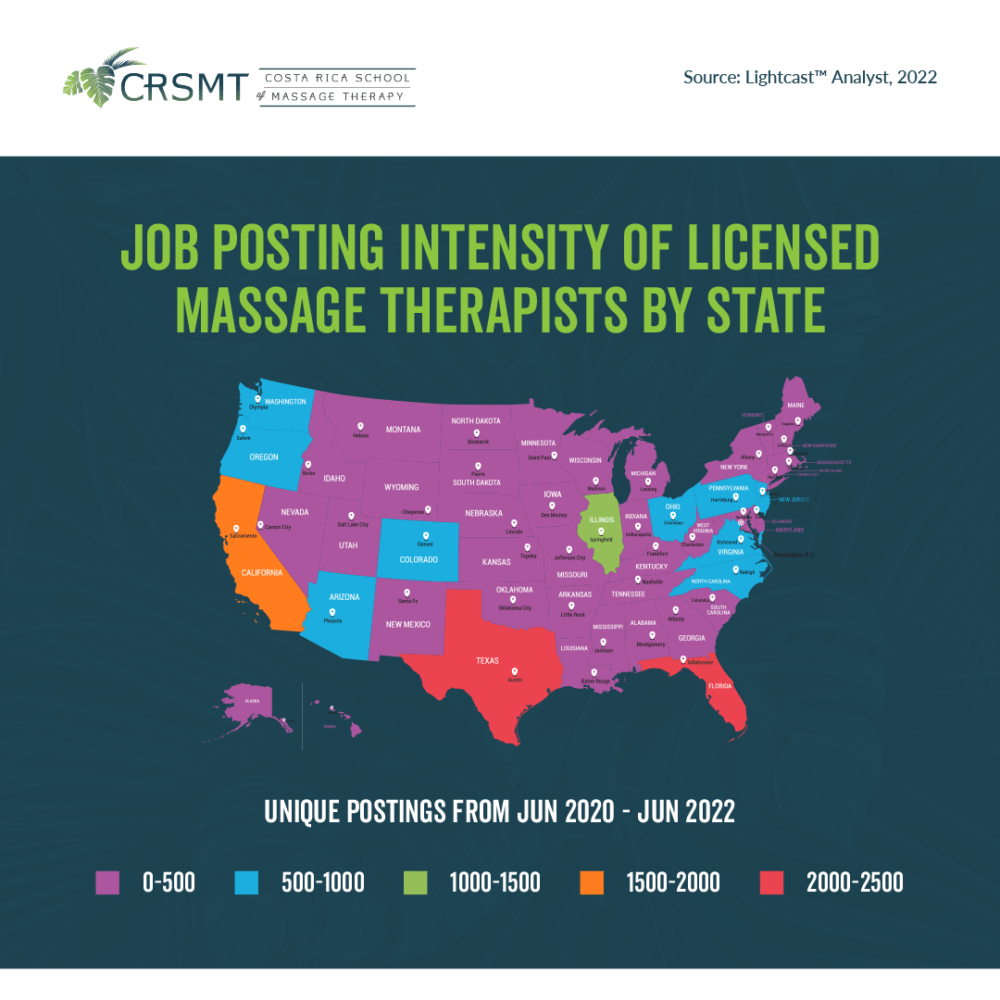 Working for Yourself vs. Working for Someone Else
In addition to geographical location, a massage therapist's salary depends largely on whether they work for a company or for themselves. For example, many licensed massage therapists start their own business and set their own prices. However, when a therapist goes on to work at a company or for someone else, then the service prices are typically set for them, with a portion of that money going to the company itself. Some things to take into account when deciding what kind of massage therapy career you wish to pursue are taxes, overhead, and flexibility.
Working for Someone Else
When you work for someone else, oftentimes massage therapy jobs will fall into two categories—employee or independent contractor. This distinction can have a big impact on a massage therapist's salary, and how their income taxes are handled. As an employee, your employer withholds a portion of your paycheck for income taxes, social security etc. As an independent contractor, however, you would receive your full salary, but then be responsible for keeping track of how much you owe in taxes.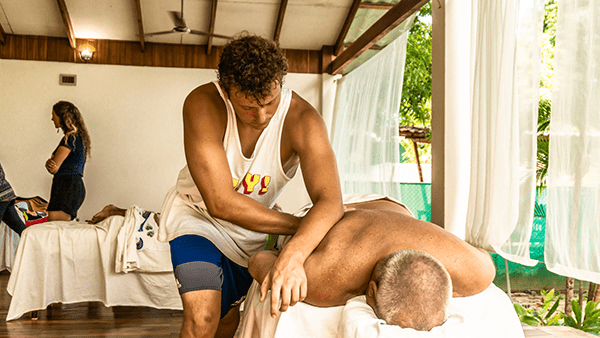 Students Practicing in the Outdoor Classroom
Additionally, salaries may be structured as hourly, commission based, flat rate, or some combination of the three. While there are a multitude of things to consider in determining what kind of business relationship is best for you, the massage therapy curriculum at the Costa Rica School of Massage Therapy provides a detailed business development course with individualized career counseling. These courses touch on topics beyond salary and taxes, which can be complex and confusing at times.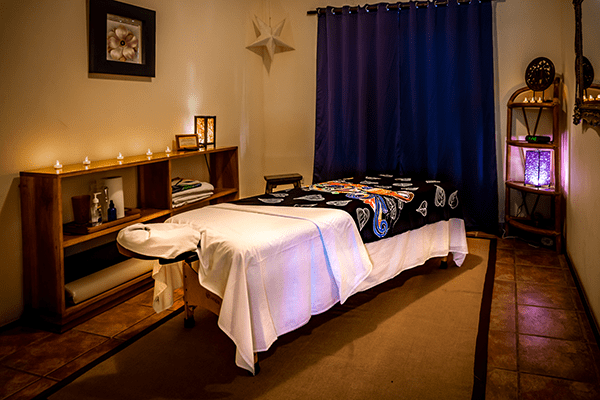 Going into business for yourself as a massage therapist can be very rewarding. You have the flexibility to set your own hours, prices, and more opportunities to seek additional clients. However, you might also have additional expenses and responsibilities. Who is going to handle washing linens? Also, much like an independent contractor, you'll need to handle your own taxes or hire an accountant. These extra responsibilities are worth it for many massage therapists as research indicates that on average, the highest earning massage therapists work for themselves and travel to clients' homes.
How to Make More Money as a Massage Therapist
An additional factor that could impact a massage therapist's income is the possibility of gratuities. After all, most massage clients leave their therapist a tip. This kind of compensation is great because this money goes directly into your pocket, even if you work for someone else. The rule of thumb when tipping a massage therapist is typically to leave between 15% and 20% of the treatment price. However, in some establishments, 25%-30% is encouraged.
Of course, not everyone leaves the same amount of gratuity. It depends on the client, as well as the quality of the massage. Yet whatever the tip may be, they can quickly add up over time. If you're considering working in a higher-end spa and even some with an independent massage therapist, make sure you understand their tipping policies. In some cases these establishments set a flat price and don't allow tipping.
This is particularly important to consider when looking at the wage trend of licensed massage therapists over the last two years. Although average earnings experience ebbs and flows, the very slight upward trend of massage therapy salaries often puts an added emphasis on gratuity in the field.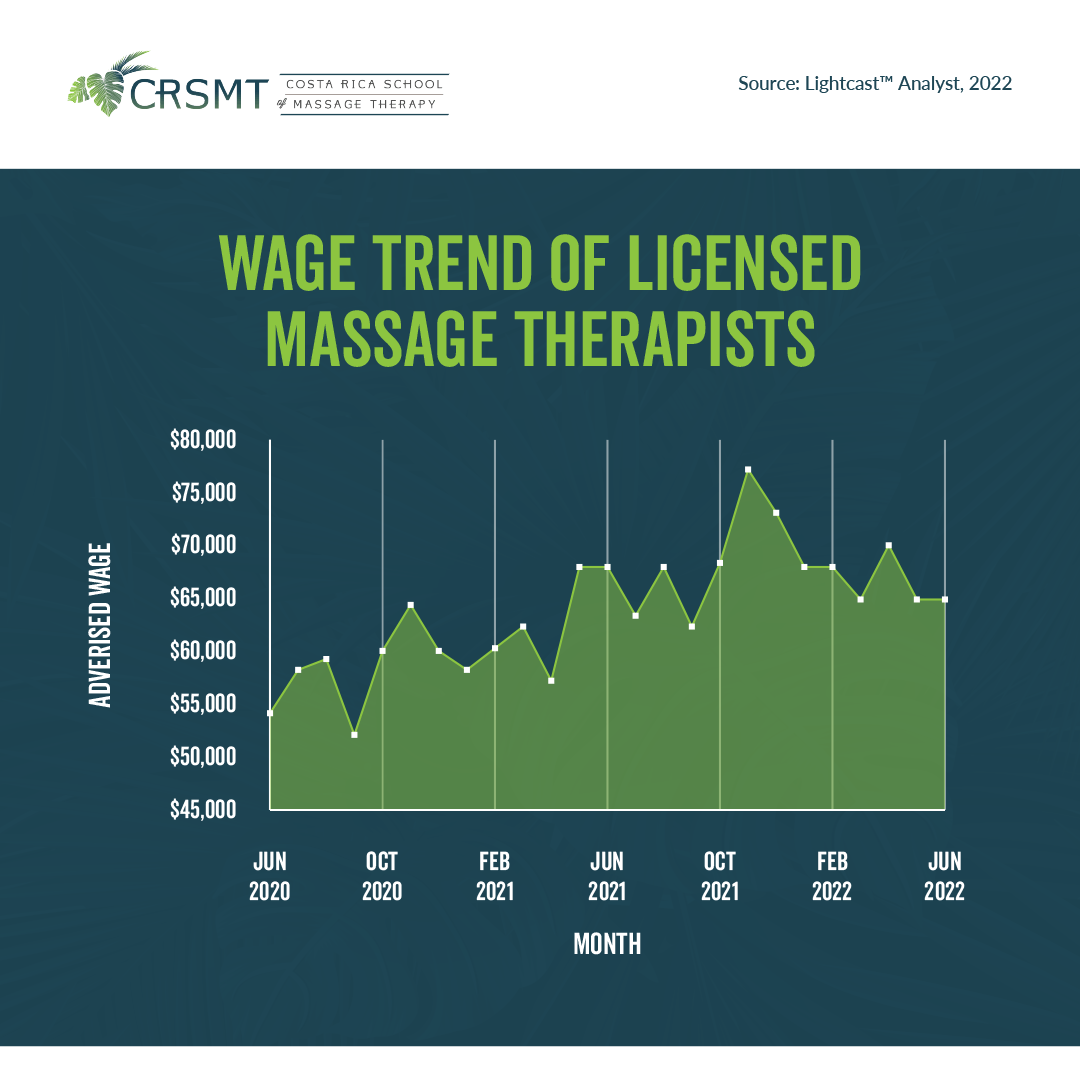 Is Becoming a Massage Therapist a Good Career Choice for You?
According to government data, the average salary of licensed massage therapists in the United States in 2022 is $64,896. Again, these annual salaries can fluctuate depending on the area you are working in and who you are working for. As far as the average salary range, it usually falls between $44,000 and $72,000, though that range may be wider depending on the type of education and continuing education the therapist has received, additional skills, the amount of time they've been practicing, etc.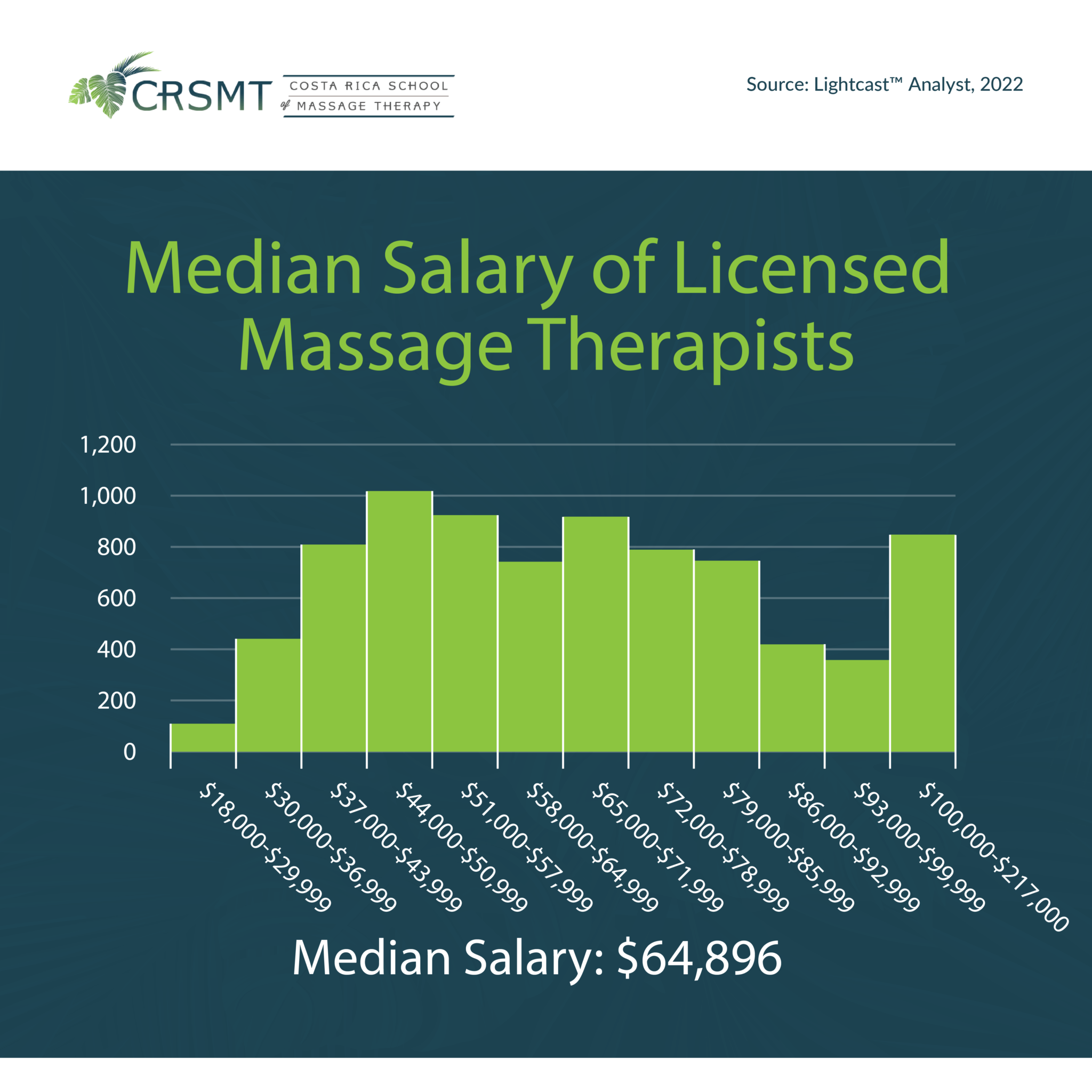 On the higher end of things, the top percentile of licensed massage therapists salaries fall between $93,000 $110,000 a year. Keep in mind that if you are working in a more expensive area or work for yourself, you have the potential to earn salaries on the higher end of this scale.
The bottom line is if you are considering the switch to a career in massage therapy, it can be a very lucrative career. However, most of our students don't list money as the reason they want to become a massage therapist – instead, they love to help people.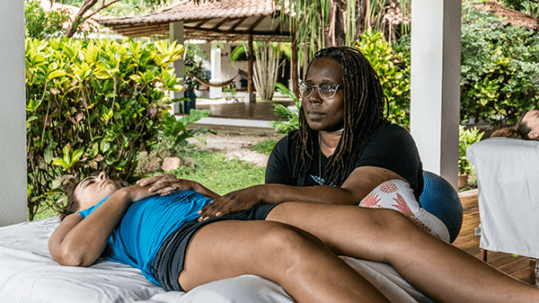 ---
The Costa Rica School of Massage Therapy is the world's premier study abroad program for massage therapy. We offer both a 600 hour and a 700 hour COMTA Accredited Massage Therapy course which satisfies the licensing requirements for massage therapy in most of the United States. Additionally, we offer continuing education for massage therapists.
Request More Information