PLAYA SAMARA
The charming remote town of Playa Samara sits near the edge of the rainforest on the central Pacific coast of the Nicoya peninsula. It's a cozy little village located on the shore of an idyllic pale sand beach fringed by coconut palms, perfect to soak up beach life and sun in an unhurried atmosphere.
Playa Samara boasts one of the best beaches in Costa Rica, yet remains untouched by the development found in other coastal areas. The shallow waters of the large half-moon bay are protected by a coral reef which makes for delightful and relaxing swimming. In Samara, there's access to fishing, diving, surfing, and more. In addition to Samara's own nearly undiscovered beach, 12 other secluded beaches can be found within a 15-mile radius. Offshore Isla Chora is accessible by kayak, and the surrounding jungles are home to a variety of animal and plant life, making Samara an outdoor enthusiast's dream.
CRSMT has become an integral part of the community and our campus sits at the heart of it. In just minutes you can walk to the beach, the soccer field, an internet café, many restaurants, and several grocery stores including an organic market. There are two banks, two local pharmacies, and an established, English-speaking doctor.
Samara boasts an artistic, musical, and holistic-minded community, with its own local galleries, open-mic nights, and farmers' markets. It's safe to say that this unique little town is one of the most beautiful places in the world.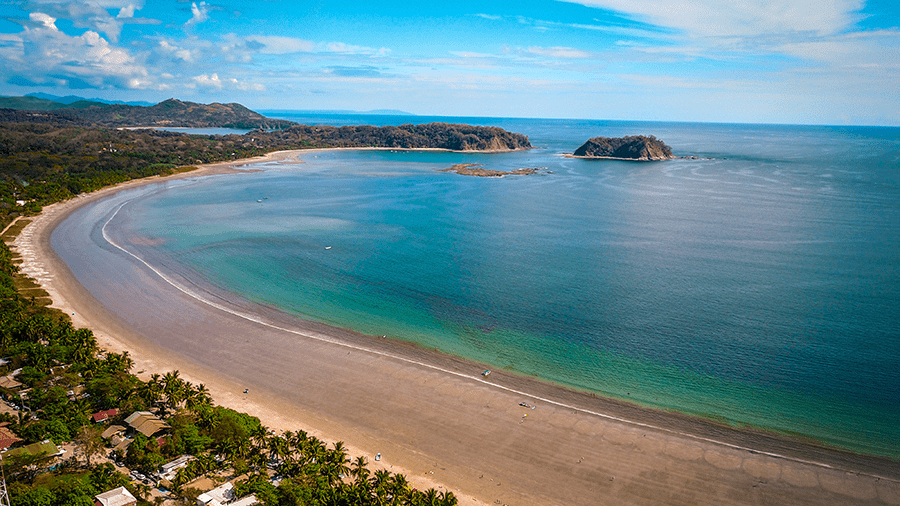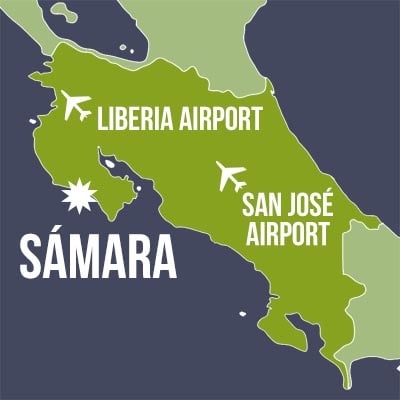 GETTING HERE
Our massage therapy school in Samara, Costa Rica is happy to answer any questions you have about traveling. Upon enrollment, we offer a detailed description of how to move through customs with ease. Please note that you must have a valid passport to travel to Costa Rica.
Upon arrival and departure, CRSMT provides safe, reliable, and comfortable ground transportation to and from the Daniel Oduber International Airport in Liberia, Costa Rica. Students that plan their arrivals accordingly are picked up by a school shuttle and driven approximately two hours south on the Nicoya peninsula, through coastal mountains and jungle to the remote town of Playa Samara.
CRSMT offers transport to and from Liberia only. If a student prefers to fly in to San Jose, the Juan Santamaria International Airport is a four to five hour drive from Samara. CRSMT can assist you with booking your own transportation via shuttles, buses, and taxi service.
CULTURE AND ENVIRONMENT
Costa Rica is largely populated by descendants of the Spanish, who settled there when it was a Spanish colony between 1502 and 1821. The settlers were referred to as hermaniticos, or 'little brothers'; shortened over time to 'tico', which is how Costa Ricans still refer to themselves. They've enjoyed a relatively peaceful history, especially compared to some of their Central American counterparts, and perhaps as a result, Tico culture is noticeably laid-back , or 'tranquillo'.
Tico's are warm, friendly, and hard-working people who rise early and retire early as dictated by the equatorial sun and jungle heat. The evening brings locals out to the beach or the town soccer field for a game of soccer and Sunday is a family day in most parts of the country.
Pura Vida, a cultural phrase that characterizes Costa Rican culture means literally 'pure life' and culturally, 'plenty of life', 'full of life', or 'real living'. Pura Vida is used as a greeting, a farewell, a reply, or in thanks. The more time you spend in Costa Rica, the deeper your understanding and appreciation for 'Pura Vida' will be.
Costa Rica lies between 8 and 12 degrees north of the equator and enjoys a tropical climate year-round. The sun generally rises at 6am and sets around 6pm with temperatures averaging around 80F. It is a humid climate although the Pacific coast, particularly the Nicoya peninsula, enjoys slightly drier weather.
Costa Rica is one of the most ecologically diverse and rich areas in the world and the jungles and beaches around CRSMT are thriving with life.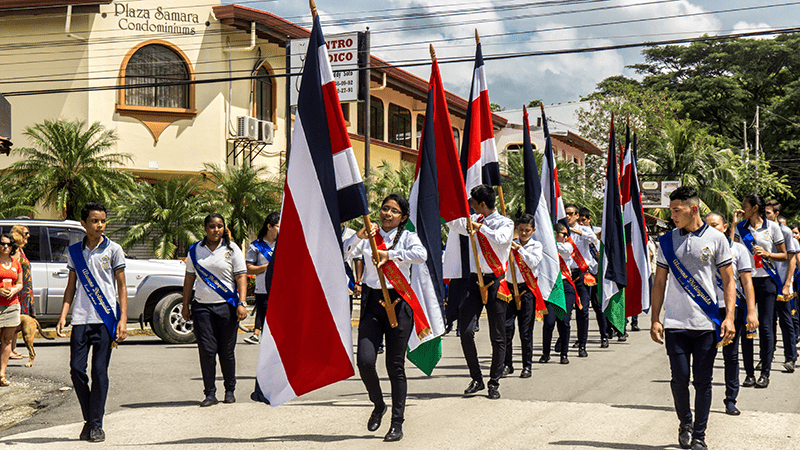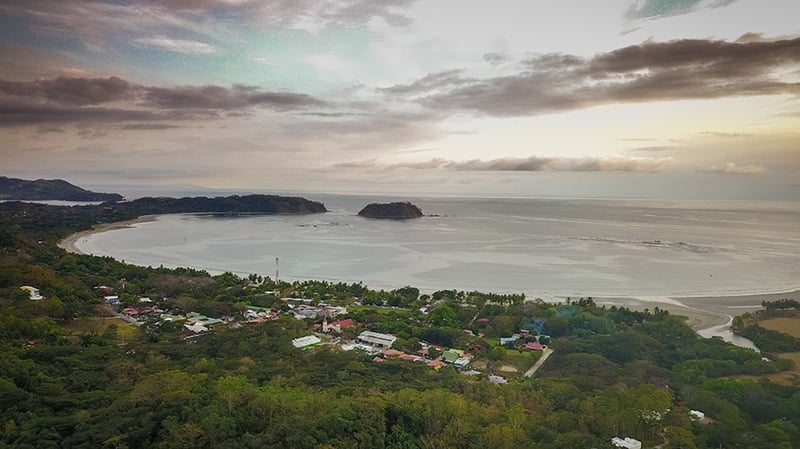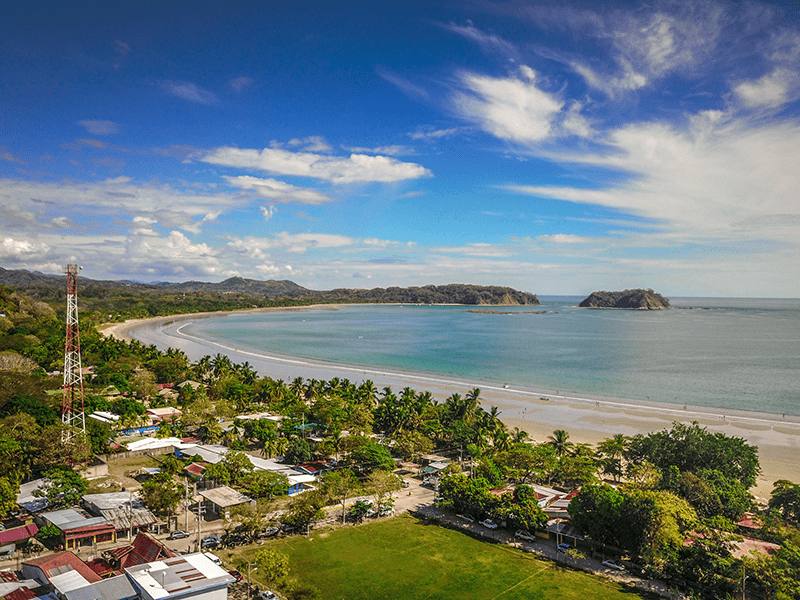 BANKING
There are two banks with ATMs on either side of the CRSMT campus, which allows students to access money with ease. It is important to tell your bank that you are traveling to Costa Rica BEFORE you leave and let them know the time frame you will be staying in Costa Rica. Students who bring cash and/or travelers checks may exchange funds for the local currency (Colones) at the bank. Most places in Costa Rica will accept dollars but it's important to consider the exchange rate beforehand. Additionally, we recommend students set up online banking prior to arrival in Costa Rica so as to better manage their accounts while away.
SAFETY
Costa Rica is considered the safest country in Central America and works hard to maintain this reputation. Former President Óscar Arias won the Nobel Peace Prize in 1987 for his work in negotiating peace agreements in neighboring countries. Working diligently to keep peace with its neighbors, with no army, the country boasts that it has more teachers than police officers. Today Costa Rica, considered by some as the "Switzerland" of Latin America, serves as the host for the Inter-American Court of Human Rights and the United Nations University for Peace and is a member of other organizations related to international justice and human rights, including the International Criminal Court.
The peaceful, friendly town of Samara, Costa Rica is very welcoming to the students of our massage therapy training programs.
During orientation at the beginning of each program, students participate in a safety discussion, reviewing safety and security and students are guided on good decision-making in a foreign country.
Safety is the number one priority at CRSMT. Staff and students at CRSMT work to create and maintain a safe and secure campus environment. It has round-the-clock security and only those associated with the school and those with visitor permits are allowed on campus at any time and all campus housing includes lock boxes.
For more information about our massage therapy school and certifications, contact a member in Samara today!