ASIAN MODALITIES CERTIFICATE PROGRAM
What You'll Learn
The benefits, indications, contraindications, and assessments for shiatsu and Thai massage
The application and techniques of Asian modalities
The history of shiatsu and Thai massage
Traditional Chinese medicine, including Qi, Yin Yang theory, Five Element theory, channels (meridians), tsubo, as well as principles of traditional Thai medicine
Course Overview
Students of the Asian Modalities Certificate Program will learn how to perform two types of Asian bodywork, shiatsu from Japan and Thai massage from Thailand, which are based on balancing the energetic systems of the body.
To give students a solid foundation of knowledge to support the hands-on skills learned, the history of these modalities are presented, along with traditional Chinese medicine, including Qi, Yin Yang theory, Five Element theory, channels (meridians), tsubo, as well as principles of traditional Thai medicine.
Students learn the benefits, indications, contraindications, and assessments for shiatsu and Thai massage. In our Shiatsu and Thai massage training programs, students will also learn the proper application of palming, finger and thumbing techniques, elbow and forearm techniques, stretching, joint mobilization, and foot techniques with the use of effective and efficient body mechanics.
Warm-up, centering, and focusing methods are emphasized as well as postural awareness. At the completion of the class, students are able to perform 60-minute traditional shiatsu and Thai massage treatments on a mat on the floor.
Both written and hands-on evaluations will be used to assess students for a complete understanding of techniques prior to receipt of the Shiatsu and Thai massage certification.
The addition of these modalities makes practitioners more versatile, enriching the menu of services bodywork practitioners offer their clients. For example, some clients will be drawn to the centering and grounding aspects of shiatsu and Thai massage. Others may prefer how the stretching makes their bodies feel. Yet others may like that no lubricants are used and that they remain fully clothed instead of being draped by a sheet. This versatility can help develop a stable client base by giving clients options in addition to Western massage therapy.
Prerequisites
Must be a Licensed or Certified Massage Therapist, Licensed Healthcare Professional, or healthcare student.
Shiatsu and Thai Massage are performed on mats on the ground. There is significantly greater physical demand on the body of the practitioner than traditional table work including spending time kneeling, bending, lifting, squatting, sitting on the buttocks, and using the feet and toes.
Frequently Asked Questions
100 Hour Complete Program
Tuition and Shared Accommodations: $3,750
60 Hour Shiatsu and TCM Only
Tuition and Shared Accommodations: $2,250

40 Hour Thai Massage Only
Tuition and Shared Accommodations: $1,500
Enjoy simple and comfortable accommodations in our Costa Rican style bungalows tucked away in the heart of Playa Samara just seconds from the beach. Each 2 or 3 bedroom bungalow is fully furnished with a fully equipped kitchen, bathroom, and living room. Single or double bedrooms are available as well as studio apartments. Enjoy the swimming pool, lush gardens, WiFi access, hot water showers, and fans. A/C is available at an additional charge.
100 NCBTMB Approved Continuing Education Units (60 units – Shiatsu & Traditional Chinese Medicine + 40 units – Thai Massage)

Costa Rica School of Massage Therapy NCBTMB Approved Provider Number: 1020

Accommodations in our Oasis Villas – fully appointed bungalows with complete kitchens in the heart of Playa Samara
Airport Pickup and Dropoff
Text book and use of all classroom facilities (tables, linens, lubricant etc.)
Airfare
Meals – all accommodations come with fully equipped kitchens, and there are several local grocers including an organic market all within 5 minutes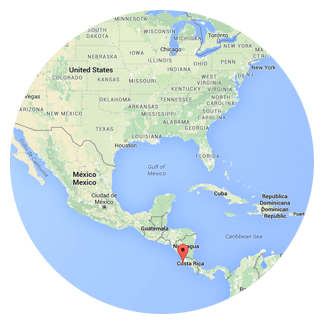 PLAYA SÁMARA, COSTA RICA
Location
Playa Samara is a perfect paradise for continuing education in orthopedic massage in Costa Rica. The town is nestled in the beautiful green hills of the famous Nicoya Blue Zone on the Pacific Coast of the peaceful Central American nation.
Highlights
Enjoy strolling the streets of the small downtown area and visiting the many local and international restaurants, bars and discos, and cute gift shops. The beautiful and tranquil Samara Bay is surrounded by miles of palm tree lined white sand beaches and provides a perfect and safe location for kayaking, snorkeling, surfing, SUP, and swimming as well.