What To Look For in a Massage Therapy School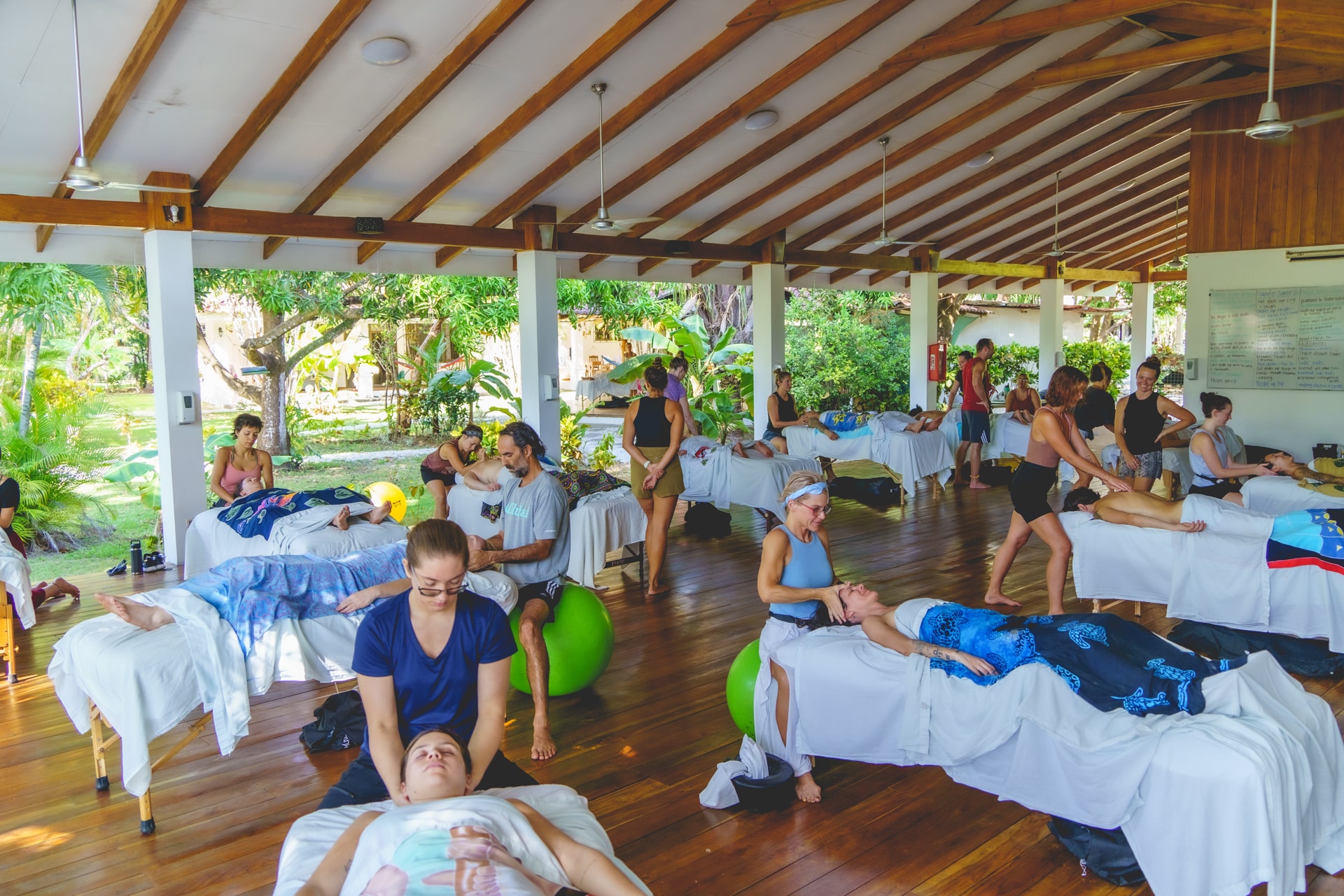 If you're considering a career in massage therapy, you may be overwhelmed by how many massage programs are available to you. For example, in the United States alone there are more than 800 massage therapy programs. In addition to these choices, international programs offer even more options for students who want a unique and exciting educational experience while attending massage therapy school.
Despite these choices, however, massage programs can vary significantly in quality and curriculum. "Some people think that massage therapy is like rubbing lotion on somebody," says Jan Frus, Director of Education at Costa Rica School of Massage Therapy. In reality, however, licensed massage therapists are experts in body mechanics, bodywork, and musculoskeletal health. "They know every muscle. They know every bone," Frus continues.
As a result, it's important to find the right program that prepares you with the industry expertise needed for a successful career in massage therapy. If you're starting to research massage programs, here are the most important things to look for when choosing a massage therapy school.
8 ThingS to Look For in Massage Therapy School
Earning a quality massage therapy education begins with defining your personal and professional goals. These will help guide you throughout your research process when looking at the various school factors such as course structure, accreditation status, and faculty.
Here are eight things you should look for when choosing the right massage therapy school for you.
1. Accreditation
Massage therapy education isn't as strictly regulated as other health industries—despite massage therapists being healthcare professionals. While most states require therapists to attend board-approved programs to qualify for certification, full accreditation isn't required.
"Not every school is required to have it. Certain states are required to have accredited schools, but some states aren't," Frus explains. "
To ensure you're set up for long-term success as a massage therapist, it's recommended to attend an accredited school. The Commission on Massage Therapy Accreditation (COMTA) and the Accrediting Bureau of Health Education Schools (ABHES), are the most common accrediting agencies that determine if schools have experienced instructors, an industry-approved curriculum, and a strong track record for training skilled massage therapists.
These accreditations are particularly impressive because it requires a lot of work from the massage therapy school to ensure their education produces highly educated healthcare professionals. For the Costa Rica School of Massage therapy (CRMST), accreditation was a two-year process. "Ultimately, it legitimizes your program and says that it ticks off all the boxes for your education," says Frus.
2. Reputation
As you compare massage schools, try to gain a sense of their educational culture and reputation. Do instructors teach well-rounded techniques for developing healing treatments? Do students feel supported in their education and confident about their skills upon graduating?
"Do your due diligence," Frus advises. "Look for people who have something to say about their program and whether past students are happy with their experience." Reputable schools aren't simply interested in producing the most graduates, they're invested in student success.
For example, CRSMT's mission is "to provide a nurturing and inspiring learning environment where students can create their own style and individuality with regard to their bodywork skills." Considering the numerous positive CRSMT alumni testimonials, it's clear that there are schools that take their mission and reputation very seriously. Therefore, take the time to research this aspect of each massage program you're considering.
3. Course Structure
Be sure to ask about the course structure at any massage school you're seriously considering. "At CRSMT, everything we do is built off of each other," says Frus. "Each program, term, or quarter is taking the previous education to the next level. It's structured that way to ensure students grow on what they've previously learned."
A well-designed massage therapy curriculum should have a logical progression and clear objectives, with each course expanding your ability to apply your knowledge and technique to clinical practice.
4. Applicable Specializations
Think about the type of specialized experience you want to pursue. Advancing your skills in a specific discipline allows you to become a niche professional, which can also improve your long-term career prospects in the industry. Attending the right massage school that aligns with those long-term goals will offer the right combination of specialties that can give you more career options down the road.
While the core curriculum at most schools provides a "base coat of knowledge," Frus explains that career flexibility and growth potential are key advantages of going into this field. "There's always more training opportunities in massage therapy. Whatever you're interested in, you can just keep going."
5. Experienced Faculty
Having knowledgeable and supportive faculty plays perhaps the biggest role in student outcomes. For aspiring massage therapists, it's important to learn from professionals who have a deep understanding of body mechanics and extensive experience creating practical solutions for clients.
"We have people that write the textbooks in our curriculum come and teach at our school," Frus says. Experienced faculty members, like the ones at CRSMT, can offer realistic insight about the real-world scenarios you're likely to face working with different types of clients. This ensures you're prepared for various client situations you may encounter post-graduation.
Frus also points to student engagement and the community created by faculty members as crucial factors to consider. "We have people who are passionate about what they do, delivering the information," says Frus. "Students really respond to that passion."
6. Program Length
Whether you want to study at your own pace or enter the field quickly, it's important to take the program length into account. "It can be hard to work a full-time job and then take night classes two to three days a week to keep the passion going," Frus remarks. Part-time programs are ideal for students with a lot of personal obligations, while accelerated programs are better for students who don't want distractions and can commit to full-time enrollment.
"CRSMT's program is accelerated. It makes the program super intense, but also it's a lot easier to spend four to five months away from a job than it is to, perhaps, work part-time," Frus continues. While this situation isn't always possible, it's important to consider the numerous benefits an accelerated program can offer. "Our students live, eat, and breathe massage," says Frus. "So by the end of the program, they've just been so immersed in it, there's no room for anything else."
7. Location
Searching for "massage schools near me" on a search engine might be your first instinct when researching massage program options, but it can be incredibly beneficial to explore programs outside your immediate area as well. Expanding your geographic range may offer options that aren't locally available to you (e.g., industry-leading faculty).
In addition to expanding your options, location can also play a huge role in your learning experience. For example, learning bodywork and healing arts in a relaxing, meditative environment provides a model for the type of care you want to deliver to future clients. At CRSMT, "there are iguanas, birds, and monkeys that come through campus and we're less than 30 seconds from the beach," says Frus. "I think it would be hard to find a better location."
8. Affordability
Make sure the overall cost of admission fits your budget and career goals, especially if you plan to attend an out-of-state school. For example, will you have income during enrollment? Will you have additional housing and transportation costs? At the same time, consider the benefits of full-time enrollment in an accelerated program. Completing your training quickly will allow you to start working in the industry sooner, which can help to balance the initial cost.
What Massage Therapy School Is Right For You?
Massage therapy in the U.S. is a $2 billion industry and growing. By finding a school that serves your needs, you can become a massage therapist in under a year and start gaining valuable experience on the job. To ensure you experience these amazing professional outcomes, it's important to decide what qualities are most important in a prospective school and do your research around the factors mentioned above.
Speaking with faculty and alumni is one of the best ways to get in-depth information about massage programs. According to Frus, both students and faculty at CRSMT agree that "you're going to be eating, breathing, and living this education [at CRSMT], but we're all here to support you and only want your success." As a result, consider contacting an admissions advisor to see how their program can help you achieve your personal and professional goals.
---
The Costa Rica School of Massage Therapy is the world's premier study abroad program for massage therapy. We offer a 600 hour to 750 hour COMTA Accredited Massage Therapy course which satisfies the licensing requirements for massage therapy in most of the United States. Additionally, we offer continuing education for massage therapists.
Request More Information