ADMISSIONS
The Costa Rica School of Massage Therapy is the premier study abroad program in the world for Massage Therapy Certification!
Students receive an outstanding education that prepares them to perform at a highly-skilled level in the massage therapy industry. The massage therapy classes in the CRSMT curriculum build a solid foundation of knowledge in combination with advanced skills such that students graduate well-equipped to provide customized therapeutic massage treatments to safely and effectively address everything from relaxation to sports-related injuries. Graduates of the CRSMT massage therapy program are eligible for licensing in most of the United States and many other places around the world.
Committed to excellence, and maintaining the tradition of massage as an art form; the massage therapy classes at CRSMT balance the sciences of the human body, the artistic techniques of massage and bodywork, modern business strategies, and holistic lifestyle principles. An underlying acknowledgment and celebration of the human spirit creates personal and spiritual depth to the program.
This unique massage therapy program is designed for English-speaking students who wish to study massage abroad in a beautiful, exotic, and natural environment.

Ready to fill out the application?
Contact our Admissions Department, at 1-800-770-9893, ext. 1 or via email at admissions@crsmt.com
Massage Therapy Certification Application Requirements
You must be 18 years or older by the time your session begins
You must possess a minimum of a high school diploma or equivalent (GED)
You must possess a passport or be able to acquire one
You must be physically capable of performing massage and traveling
You must possess current/valid CPR certification
You must obtain travel medical insurance
If you meet the requirements above, take the first step and call one of our admissions counselors today at: 1-800-770-9893; ext. 1
Massage Certification Program Dates
January 18th, 2024 – May 12th, 2024 - *$500 Tuition Discount Available
July 25th, 2024 – November 17th, 2024
Massage Therapist Continuing Education Workshops
The Costa Rica School of Massage Therapy strives to provide opportunities for students to explore different modalities and complementary therapies alongside the massage therapy core curriculum, as well as massage therapy continuing education vacation opportunities for seasoned massage therapists. In this beautiful tropical paradise, students have access to exceptional facilities, experienced instructors, and opportunities to enhance their knowledge on all aspects of their massage therapy practice. We are recognized for the variety and quality of our continuing education programs for massage therapists at all experience levels.
Most of our massage therapy continuing education courses are 1-3 weeks in length. The length of the course is determined by the specific topic. After completing our continuing education courses, students have the knowledge, technique, and practical understanding to implement the specific training into their massage therapy practice with confidence and ease. All our courses are NCBTMB approved for license renewal in the United States. Our students find this immersive experience not only rewarding, but also relaxing and rejuvenating.
Learn more about our massage therapy continuing education workshops in beautiful Costa Rica.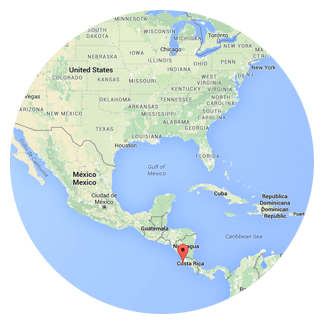 PLAYA SÁMARA, COSTA RICA
Location
Playa Samara is a perfect paradise for continuing education in orthopedic massage in Costa Rica. The town is nestled in the beautiful green hills of the famous Nicoya Blue Zone on the Pacific Coast of the peaceful Central American nation.
Highlights
Enjoy strolling the streets of the small downtown area and visiting the many local and international restaurants, bars and discos, and cute gift shops. The beautiful and tranquil Samara Bay is surrounded by miles of palm tree lined white sand beaches and provides a perfect and safe location for kayaking, snorkeling, surfing, SUP, and swimming as well.