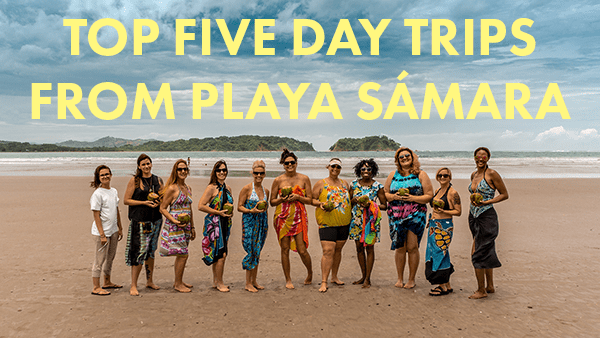 In this post, we are sharing some of our favorite local spots. These are great places to explore that can be done in a single day… take a look, share the post, and let us know where your favorite local Samara day trips spots are!
The CRSMT campus is located right in the heart of Playa Samara. A charming little beach town surrounded by beautiful palm trees, smiling locals, and plenty to do, what's not to love? Yet there is so much more to see of Costa Rica! From beaches to waterfalls, there is a lot to see and do, all in one day! If you are looking for an adventure, but want to stay close to Samara, then here are the top 5 day trips that you can take while staying in Playa Samara.
This beautiful surf beach is incredibly popular among locals and tourists alike. With a long coast, awesome waves at almost any time of the day, and some excellent shops to browse through, this destination is worth the trip. Guiones is located about 45 minutes by car from Samara, though sometimes after heavy rainfall the roads can be a bit rough and it may take longer. There are several delicious sodas (small locally owned restaurants with typical food) located in the center of town, and some great places to pick up a new bathing suit or some great surf wear. Also, along the outskirts of town you can find plenty of trails through the jungle, some leading to beautiful waterfalls.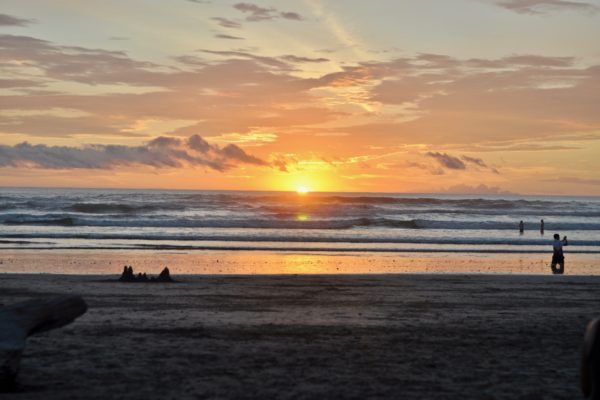 Not to mention, Guiones has one of the best sunsets around! This is one of the day trips that you shouldn't miss! Pro Tip: Take a community yoga class at the stunning Bodhi Tree Yoga Resort and follow it up with brunch at La Luna Restaurant in nearby Playa Pelada.
Visiting this small village, located about an hour or so north of Samara, is like taking a step back in time. It is a small fishing village and home to Ostional National Wildlife Refuge. Since the area is protected, you can really see nature in its purest form when you visit Ostional. The refuge is thought to be the second most important nesting site in Costa Rica for sea turtles. A visit during nesting season means sightings of three different kinds of sea turtles including Leatherback, Pacific Green, and Olive Ridley. It is a magnificent sight to see thousands of sea turtles coming ashore to dig their nests and lay their eggs. Then, when the eggs hatch, thousands of baby sea turtles can be seen making their way into the ocean. That's why this is one of our top day trips from Playa Samara!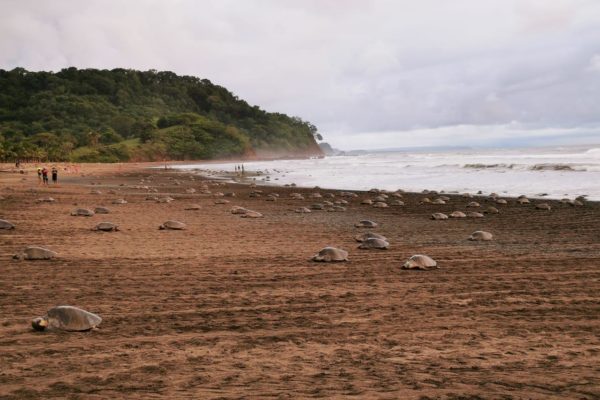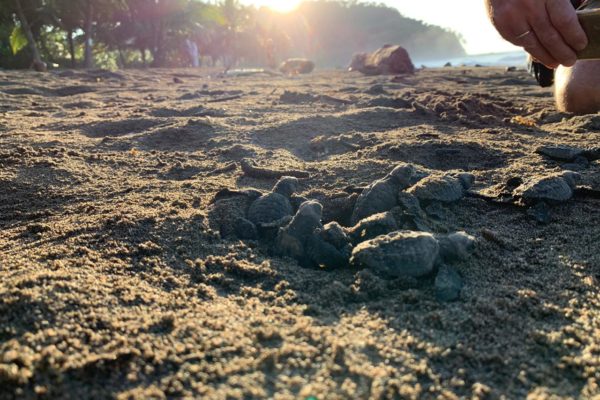 Image source: Alfredo at Samara Sea Tours
If you are in the area, you can try a local delicacy – sea turtle eggs… but isn't that… illegal? You might ask. This is the only place in the world that it is legal to harvest sea turtle eggs. The Costa Rican government permits local Ticos to collect a certain number of eggs for sale and consumption to diminish illegal poaching. Conservationists also say that this helps keep the nesting sites healthy by cutting down on issues that stem from overcrowded nests.
Turtles nest year round in Ostional, but the peak nesting time is during rainy season. From August to December arribadas (massive nesting periods) occur once or twice a month, so if you are wanting to catch the sea turtles nesting, this is a great time to visit! There are several experienced guides around town that can take you to see the turtles at peak time, so you won't miss anything! For more information, or to book a tour, contact Samara Info Center.
Located about 2 ½ hours from Samara by car, this national park made our list of day trips for a reason and is definitely a must-see.
The name literally translates to "the old woman's corner", but the area is filled with spectacular hikes and beautiful views. Rincon de la Vieja sits on just over 34,000 acres and is home to 2 volcanoes, 32 rivers and streams (including several waterfalls), and a wide variety of flora and fauna. There are also several activities to enjoy in the park such as horseback riding, hiking, hot springs, swimming, and camping. In the summer (dry season), you can even hike up the side of a volcano! This day trip is one for the books.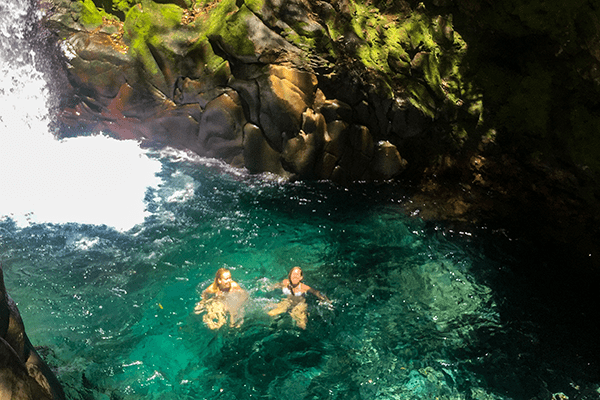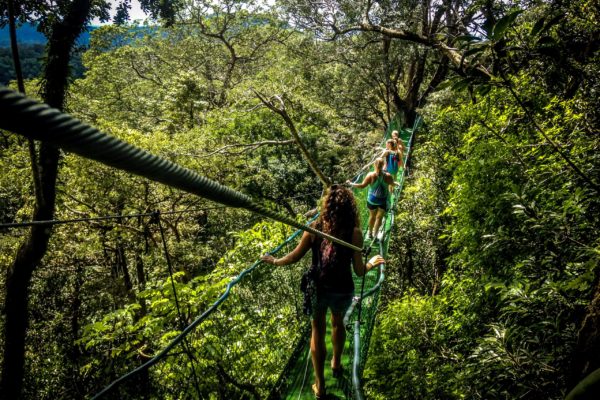 If you are looking to get the best out of your day trip, then check out Buena Vista Lodge and Hacienda Guachipelin! These hotels both offer day passes to the park, including a number of great activities like canopy tours, water slides, tubing, entrance to hot springs and lunch.
This national park is part of the Arenal Tempisque Conservation area. It covers a large part of the valley of the Tempisque River and covers 45,492 acres of land. At about a 2 ½ hour drive, this day trip is certainly an exciting one! Known mostly for the vast amount of bird species, the national park is a huge attraction for bird watchers. In winter (wet season) alone around 250,000 species of birds live in this area There are several ways to see the park. You can bike through the trails and enjoy the lush nature. You can also hire a boat to take you up the Tempisque River. This can be a fun and exciting way to tour the park because there are several crocodiles that reside in this river. Some people like to hire boats that specifically go on "croc watches". But don't worry, if you hire a professional, you are perfectly safe.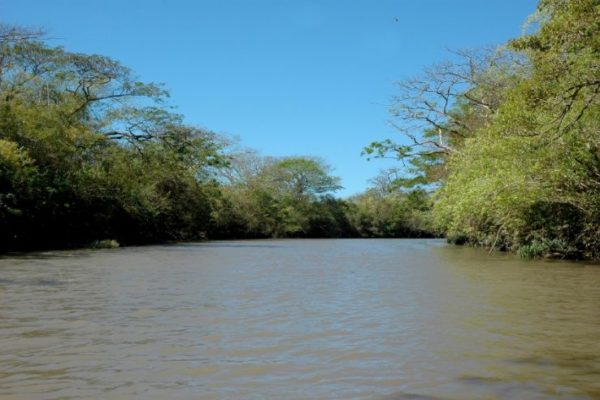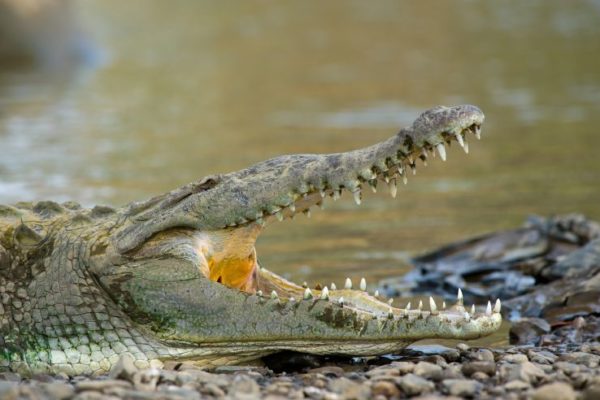 At just under an hour drive, this undeveloped beach is a great destination for a nice day trip. There are plenty of picnic tables for picnics and gatherings, and the beach is beautiful. There are also some great waves for surfers or boogey boarders!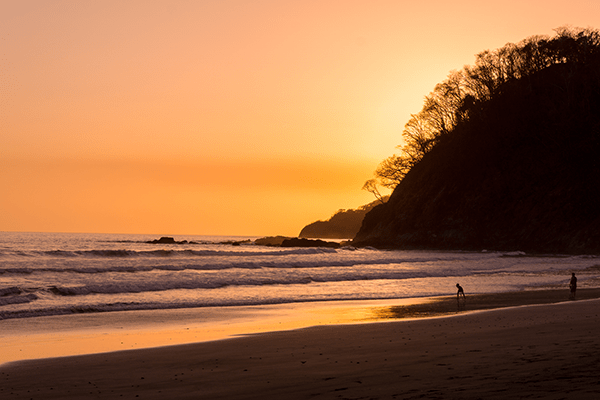 The main attraction at this beach, however, are the turtles. This beach is extremely popular for seeing the Olive Ridley turtles nest. There are also Pacific Green turtles, Leatherbacks, and Hawksbill turtles that nest in the area. The "arribadas", or massive nesting periods when thousands of turtles come ashore to nest, happen several times a year so it is easy to catch. When the baby turtles hatch, the beach is open, but surfing are not allowed for the protection of the turtles. It is a truly spectacular sight to see when thousands of baby turtles are making their way to the ocean.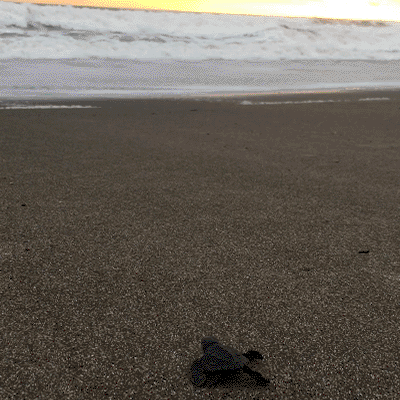 While there is plenty to do in Playa Samara itself, there is also so much more to see. Day trips can be a great way to explore more of Costa Rica without every having to go too far from "home". Enjoy exploring!
---
The Costa Rica School of Massage Therapy is the world's premier study abroad program for massage therapy. We offer a 600 hour to 750 hour COMTA Accredited Massage Therapy course which satisfies the licensing requirements for massage therapy in most of the United States. Additionally, we offer continuing education for massage therapists.
Request More Information