Why Choose Accelerated Massage Therapy Programs?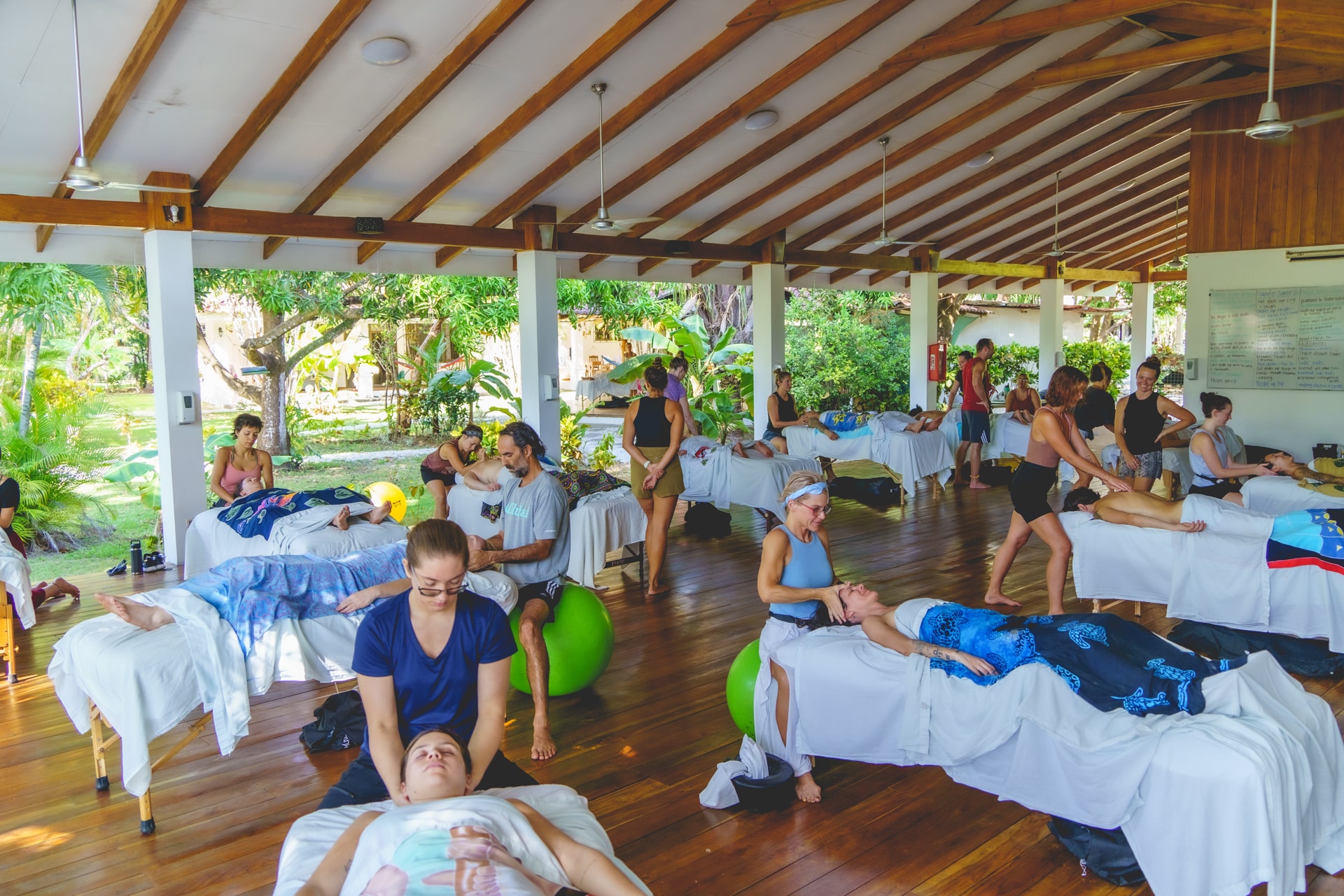 Choosing a career in massage therapy can be fulfilling. However, for those considering a change in profession, the extensive time requirements of massage therapy programs can be overwhelming.
For those students, pursuing an accelerated program is an excellent option. These programs offer a quick path to certification that requires a rigorous amount of training in a short period of time. Here's an overview of what an accelerated massage therapy program is, and why you should consider pursuing this option.
What Are Accelerated Massage Therapy Programs?
An accelerated massage therapy program offers maximum education hours in a short time frame. Where traditional massage therapy programs can take up to two years to complete, accelerated programs can take as little as 4 to 6 months.
"You have to commit yourself completely to it, and it goes very quickly," explains Jan Frus, Director of Education and Lead Instructor at the Costa Rica School of Massage Therapy (CRSMT). "You cover all the same information that you would cover in a more traditional or a longer format of a massage therapy program. But you cover it in a little portion of the time."
This educational path is a big commitment, so it's important to be prepared to dedicate a lot of time to it. "Accelerated massage therapy programs mean that you eat, breathe, and live massage therapy," explains Frus. "In four months, we're going to go through 600 hours—and in 5 months we're going to get through 700."
Benefits of an Accelerated Massage Therapy Program
If you're trying to choose between an accelerated program and a traditional one, there are several benefits you should consider.
Learning Quickly
Accelerated massage therapy programs are designed to combine theoretical knowledge with hands-on practice in a small period of time. By completing your education quickly, you can begin applying your newfound skills in a massage therapy practice right away.
"You're not learning a technique and then not doing it again for three or four days," says Frus. "Twenty-four hours later, you're doing the same thing and you're building on that."
This immediate transition from education to practical experience is beneficial because it helps you better retain the knowledge in the classroom.
"You learn so quickly because that's all you're doing," continues Frus. "That allows you to just absorb; you can put everything else in your life aside and just give yourself to the program and to the education."
Completing Your Program Efficiently
One of the primary benefits of accelerated programs is the efficiency. "Instead of having to dedicate two years to trying to get to where you want to go, you can come to school for four or five months, and a month later you'll have a license and be working," explains Frus. "So it's not two years later, it's less than half a year later. So this program path can really be efficient."
To make the most of an accelerated program—and maximize efficiency—there are several tips you'll want to follow, including:
Prepare to work hard: To maximize the efficiency of your experience, it's important to be able to dedicate yourself to your studies. This will occasionally involve 13 hour days or weekend study. However, the value you'll get out of the program will be well worth the additional effort.
Put aside other distractions: It's easy to get distracted, but the best way to learn massage therapy is to—as Frus puts it—eat, sleep, and breathe massage therapy.
Get feedback: Learning from your peers and the program faculty can be a great way to maximize your ability to learn and retain information. For example, at CRSMT your classmates will be some of your biggest supporters.
Immersing Yourself in Massage Therapy
An accelerated program—like the one offered at CRSMT—allows you to commit yourself completely to massage therapy. It's an ideal option for those seeking a career change, as you can acquire comprehensive training in a relatively short period of time and become a skilled massage therapist quickly.
Even if you're not changing careers, but are seeking massage therapy as your first career path, an accelerated program can be beneficial. Many people learn best through complete immersion without distractions. By eliminating outside stress and allowing you to maintain complete focus, an accelerated program creates an ideal learning environment.
Choosing an Accelerated Massage Therapy Program
If you're interested in becoming a massage therapist, and the efficiency and practicality of an accelerated program interests you, there are several factors you'll want to consider before committing to a specific program.
1. Accreditation
Whether you're choosing an accelerated program or a traditional one, one of the most important factors you should consider is its accreditation. "You want to make sure that the education is accredited, that it's legitimate, and that they're going to deliver what they promise," says Frus.
For example, CRSMT is accredited by the Commission on Massage Therapy Accreditation (COMTA), which is a specialized accrediting agency recognized by the U.S. Department of Education, and makes you eligible for licensure in nearly every U.S. state.
2. Academic Quality
The second factor you should consider is the academic quality of the school. While it's difficult to determine quality before you attend school, there are several ways you can research the school ahead of time, such as:
Testimonials: Reviewing what current and former students are saying about the program is a great way to learn about it ahead of time.
Marketing: How the school advertises itself can also give you good insights into its quality, and what sets them apart from other schools.
Interviews with graduates: Alumni stories can tell you not only what they thought of the program's academic quality, but also give you an idea of where you can work following graduation.
Faculty: Consider factors such as how long the faculty has been there, as well as their background and qualifications.
Once you've done this research, you'll have a better picture of what each school offers and whether it'll be right for you.
3. Classes
Another factor Frus recommends you consider is whether you'll learn what you actually want to in the program. "Maybe you've always wanted to learn craniosacral," says Frus. "If so, make sure they teach craniosacral. If you've always wanted to learn reflexology, make sure they have a reflexology option."
If a school offers classes that align with your interests and aspirations, your education will be much more engaging, and can help you build a solid foundation for your future career.
4. Continuing Education
Another factor to consider is whether the school offers continuing education units (CEUs). "We don't believe that education stops here," Frus explains. "We want people to learn and grow."
For example, CRSMT offers "Continuing Education Vacations for Massage Therapists" that are approved by the National Certification Board for Therapeutic Massage & Bodywork (NCBTMB). These vacations allow you to complete your CEUs while enjoying the beautiful scenery and pristine beaches of Costa Rica.
5. Location
While it's probably not the most important factor, location can play a huge role in your massage therapy learning experience. CRSMT is an excellent option when it comes to location. "We're the only international accredited massage therapy school," explains Frus. "And we are literally a block from the beach."
Especially when it comes to the stress of an accelerated program, choosing a location that allows you to destress and offers beautiful scenery can make all the difference. "You can hear the waves when we're in class," describes Frus. "It's an outdoor classroom, and there are mango trees within arms reach."
If you're interested in a school with a breathtaking surrounding landscape—as well as outdoor activities like kayaking, hiking, and even a cat you can pet during class—CRSMT should be your top choice.
Finding the Right Accelerated Program For You
Does an accelerated massage therapy program sound like the right fit for you? If so, consider applying to the accelerated program at CRSMT. We offer both a 600 and 700 hour accredited curriculum, which fulfills the licensing requirements in the vast majority of U.S. states.
In addition to the program quality, accreditation, and hands-on learning opportunities offered at CRSMT, however, the location alone makes the program well worth it. As Frus puts it, "it's the most magical place on earth."
---
The Costa Rica School of Massage Therapy and Yoga is the world's premier study abroad program for massage therapy and yoga. We offer a 600 to 750 hour COMTA Accredited Massage Therapy course which satisfies the licensing requirements for massage therapy in most of the United States. Additionally, we offer continuing education for massage therapists.
Request More Information