Massage therapy is an exciting career field where you can make a positive impact in others' lives, improve their well-being, and ease their tension. However, it's critical for prospective massage therapists to be aware of the importance of licensure. Here's an overview of why licensure is key to becoming a massage therapist and what you can do with a license.
What is Massage Therapy?
Massage therapy has existed for centuries, carrying a variety of definitions. In fact, each state in the U.S. has its own interpretation of massage therapy and what qualifications are needed for licensure. The basic definition of massage therapy is the manipulation of soft tissue, but this industry goes much deeper than that.
According to Jan Frus, the director of education and lead instructor at the Costa Rica School of Massage Therapy, "It's not just manipulating the soft tissue. It's facilitating people's healing. It's easing their pain. It's easing their suffering. It's giving touch to the touch deprived. [Massage therapists] are facilitators of well-being and wellness."
Massage therapists use a wide range of massage techniques to accomplish this goal. Some of the most common types of massage include:
Swedish massage
Deep tissue massage
Shiatsu massage
Thai massage
Sports massage
Why Licensure Is Important?
In the United States, every state has its own requirements for becoming a massage therapist. Therefore, prospective therapists should familiarize themselves with the specific requirements of the location they hope to practice in. However, in 45 out of 50 states, massage therapy is regulated. This means that individuals practicing massage therapy without a license in these areas can be prosecuted. Local governments, such as cities and counties, may have their own requirements for massage therapists as well.
Beyond the ability to practice, however, licensure qualifies massage therapists to practice safely, ethically, and effectively. Incorrect massage techniques can cause physical damage to clients rather than improve their well-being. A license, certification, or other qualification demonstrates that a massage therapist has completed the necessary requirements to practice safely.
Most of the time, licensure requirements include completion of an accredited massage therapy program. Consider checking the Commission on Massage Therapy Accreditation (COMTA), one of the most widely accepted accrediting agencies for massage therapy, to see what programs are available in your area. Massage therapists also have to pass a licensing exam— typically the Massage Therapy & Bodywork Licensing Exam (MBLEx) since it's accepted in almost all states that require licensure.
Massage Therapy Career Paths
When it comes to massage therapy opportunities, the sky's the limit. There are a wide variety of career options, from working with professional athletes, to celebrities, and even pets. The job outlook for massage therapists is also positive. According to government data, the massage therapy industry has grown 14% between 2020 and 2022.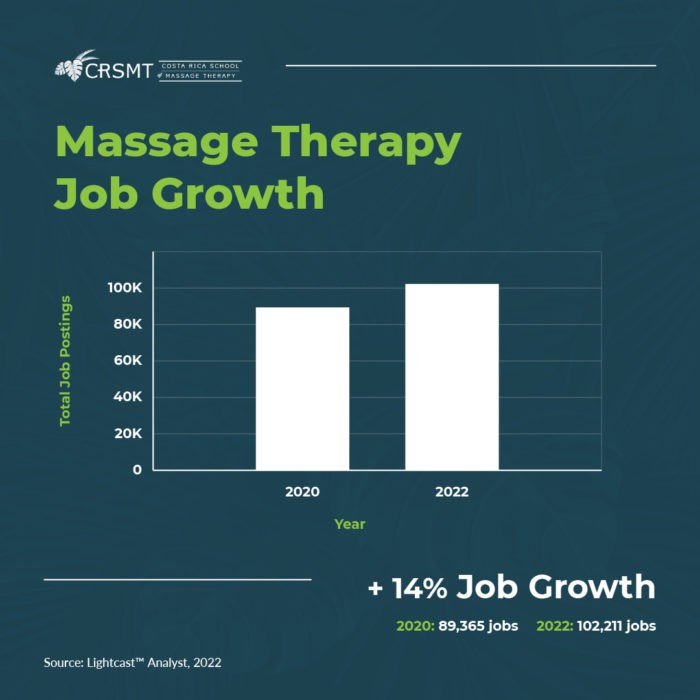 Top Job Titles
A license prepares massage therapists for a variety of job titles. There are many positions, however, that pair very well with massage therapy, such as personal trainers and aestheticians. These positions typically require additional licenses, but many massage therapists who want to grow their careers pursue these paths as well.
According to government data, these are the top nine job titles licensed massage therapists typically obtain:
Massage Therapists: A broad job title that encompasses a wide variety of positions in different industries.
Licensed Massage Therapists: Since a massage therapy license is required to become a practicing massage therapist, some companies include the licensure in the job title.
Certified Massage Therapists: Massage therapy certification is similar to licensure in that it demonstrates qualification to practice massage therapy. Certification is required in California, Indiana, and Virginia, but isn't enough to qualify for licensure in most other states in the U.S.
Spa Massage Therapists: A popular career path for massage therapists is working in a spa. This is an excellent career choice for those who want to use massage therapy to relieve the stress and tension of their clients.
Massage Therapist Managers: These massage therapists have a managerial role as well as massage therapy, and are often included in the hiring process. This also means they are responsible for overseeing other staff members.
Lead Massage Therapists: Individuals in this position have many of the same responsibilities as other massage therapists, but are responsible for training and mentoring a team.
Aestheticians and Massage Therapists: Skincare and massage therapy are related positions in that they both promote well-being and quality of life. For this reason, many massage therapists choose to obtain licensure in both professions.
Personal Trainers/Massage Therapists: Fitness is another industry that aligns with massage therapy. Many personal trainers obtain a massage therapy license to accompany their personal training certification, allowing them to help clients relax their muscles following exercise.
Medical Massage Therapists: While many massage therapists in other industries massage to promote relaxation, medical massage therapists use these techniques to help in recovery and physical healing.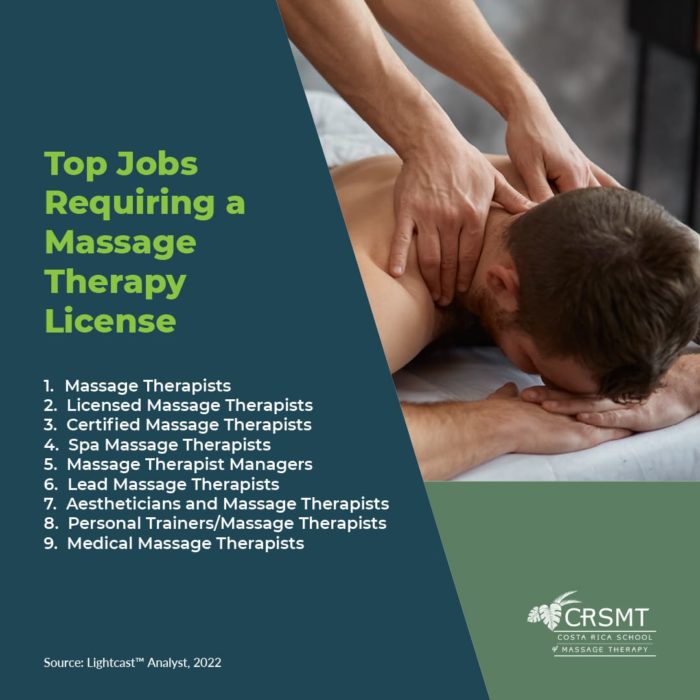 Top Industries
In addition to having a variety of career options, massage therapists work in a wide range of locations, such as hotels, resorts, yachts, and cruise ships. Here are the top six industries massage therapists work in:
Personal Care Services
Offices of Other Health Practitioners
Traveler Accommodation
Other Amusement and Recreation
Offices of Physicians
General Medical and Surgical Hospitals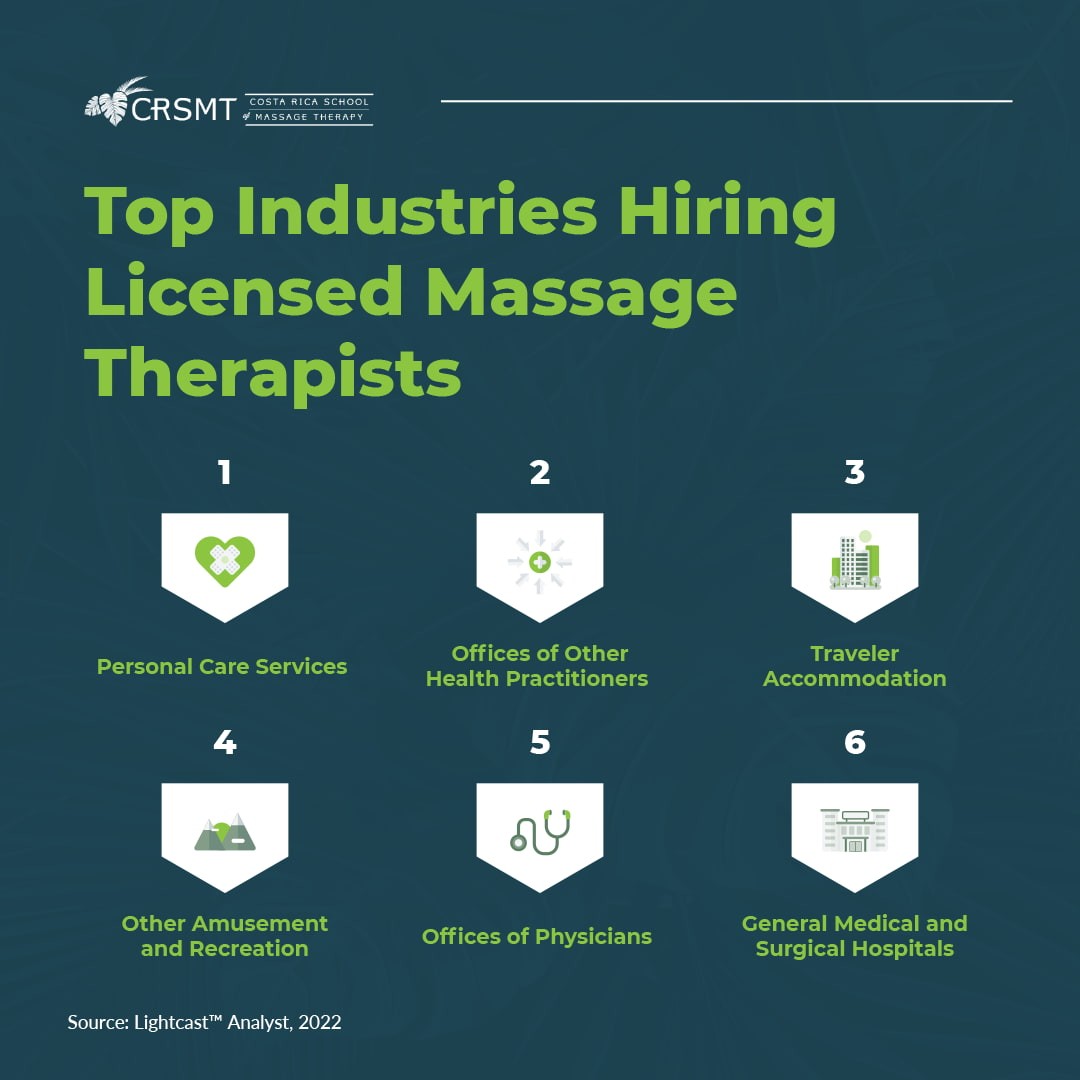 Top Companies
Many massage therapists choose to be entrepreneurs and open their own private practice instead of working for a company. Self-employed massage therapists have the freedom to set their own schedules, rates, and work with the clientele of their choice.
For those who would rather not face the pressure of owning their own business, there are several companies hiring massage therapists. With any job, however, it's good practice to thoroughly research the corporate culture before applying. It's important to ensure that you're satisfied with the company you work at, whether it's a spa, chiropractic office, medical clinic, or other massage establishment.
With that in mind, here are the top companies hiring licensed massage therapists based on government data:
Massage Envy
Sooth
Hand And Stone Spa
Marriott International
Elements Massage
WTS International
Zeel.com
Massage Heights Franchising
Finding the Right Massage Therapy School
The human body is complicated, and massage therapists need a thorough understanding of human anatomy before starting their career. For this reason, prospective massage therapists should enroll in a massage therapy program at an accredited school. Not only is this necessary for licensure in most states, but it also provides massage students with the skills they need to succeed in the industry, whether they work independently or with a company.
If you're interested in taking the next steps in your massage therapy career, consider filling out an application for the Costa Rica School of Massage Therapy. Our accredited program will teach you the skills needed to succeed in the massage therapy industry and help you learn how to facilitate both relaxation and physical recovery.
---
The Costa Rica School of Massage Therapy is the world's premier study abroad program for massage therapy. We offer a 600 hour and a 700 hour COMTA Accredited Massage Therapy course which satisfies the licensing requirements for massage therapy in most of the United States. Additionally, we offer continuing education for massage therapists.