How Long Does It Take to Become a Massage Therapist?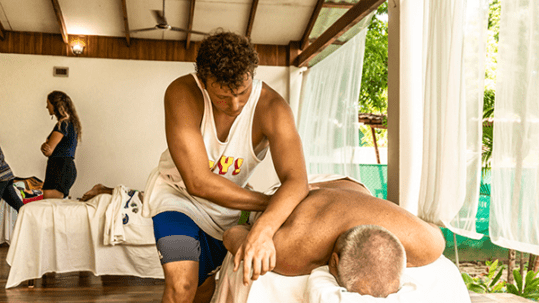 Helping people relieve stress and reach their wellness goals can be an incredibly rewarding experience. In addition to making a difference in the lives of others, health and wellness professionals are also rewarded with steady growth in job opportunities. For example, according to the U.S. Bureau of Labor Statistics (BLS) the demand for massage therapists is projected to increase by 20% over the next decade, which is much higher than the average national job growth rate.
For those interested in the exciting field of massage therapy, you may be wondering, "how long does it take to become a massage therapist?" While there aren't many factors that influence the answer to this question, there are a number of reasons why this is a difficult question to answer. If you're ready to learn more about this career path, here's an overview of the massage therapy career path as well as the factors that can affect your timeline in entering the field.
What Is a Massage Therapist?
A massage therapist is a certified health professional who uses pressure and touch techniques to ease pain, stiffness, and tension in the body's soft tissues. Everyday activities like working, sitting, bending, running, and lifting can cause mental stress and put physical strain on muscles, joints, tendons, and connective tissues. Massage therapists take their knowledge of human physiology and movement to effectively manipulate the body to improve healing.
Massage therapists also provide rehabilitative treatment for injuries and help clients manage chronic pain from a wide range of medical conditions. "As a massage therapist, I like to feel the muscles become more pliable," says Jan Frus Director of Education at the Costa Rica School of Massage Therapy (CRSMT). "I like to feel the range of motion improving and having someone say, 'Oh my gosh, my pain level has gone so far down that it's almost gone.'"
When administered by a trained professional, massage therapy promotes relaxation by slowing the central nervous system, which stimulates the lymphatic system to allow the body's cells to remove waste quickly. As a holistic therapy and a form of integrative medicine, massage is often part of a broader health plan to achieve full-body wellness.
How Long Does It Take to Become a Massage Therapist?
The timeline to become a massage therapist varies by student and often depends on your preferences. However, there are a few common factors that influence how long it takes for the average massage therapist to enter the field as a licensed professional.
1. Program Length
Massage therapist schooling typically ranges from 5 to 18 months, depending on how the program is structured. If you're comparing options, pay attention to the amount of credits or education hours required to graduate.
Accelerated programs—like the one offered at CRSMT—cater to full-time students who want to become a licensed massage therapist as quickly as possible. However, this fast pace involves a greater time commitment in the short term. "If someone's looking at our program, I would say training takes about 19 to 20 weeks," says Frus. "But you have to remember that it's an accelerated program. Some programs are six months to a year, while others can be a year and a half."
While many therapists would probably prefer entering the field as quickly as possible, sometimes personal commitments can get in the way. That's where a one-year to 18-month massage program can offer more flexibility for massage therapy students who need to manage work or family obligations while attending.
Whatever option you prefer, keep in mind that length only affects your overall timeline of entering the field—it doesn't determine program quality. Research your top picks thoroughly to ensure they're accredited and have a positive success rate of producing qualified therapists.
2. State Licensure
Individual state licensing requirements and approval processes are often the largest variable in becoming a massage therapist. "After students graduate, depending on what state they go to, they have to get licensed," Frus explains. "This typically requires a passing grade on your licensing exam as well as your school transcripts. Only then can you apply for licensure in the state you want to practice in."
Since each state manages licensing differently, it's important to look up the procedures and average processing times wherever you intend to practice. "One alum got her license within two to three weeks after graduation," Frus says. "However, in some states you can work with a license pending status. But again, it all depends on the state."
As Frus points out, administrative challenges can also come up unexpectedly and draw out the process. "COVID caused backups in certain states for licensure approval. We had someone that graduated in December 2021 and didn't get his license until around July 2022 in his state—even though he applied for it right away. It just really depends on the states in this case."
3. Personal Commitment
Personal commitment plays a huge role in the length of time it takes to become a massage therapist. Although much of the licensing process is beyond your control, you can potentially navigate around obstacles. For example, you can choose to get licensed in a state with an accelerated licensing process—especially if you live in an area where interstate commuting is easy. Enrolling in an accelerated program is another option that allows you to shorten your training duration while still developing the skills needed to succeed in your career.
Having passion and clarity about how you want to apply your training is also a crucial factor. "Some people come down to CRSMT, and they are ready to just launch themselves as soon as they graduate," Frus explains. "And some people are still searching." Ultimately, it comes down to how much effort you're willing to put toward immediately entering the field.
Start Your Path to Becoming a Massage Therapist
Massage therapy is a very hands-on career that involves a lot of attention to detail, empathy, communication, and commitment. "With this type of industry, you gotta love what you do," says Frus. She goes on to explain that most therapists pursue this path because "they want to use their knowledge and skills to transform people's lives and make them feel better."
If a career in massage therapy appeals to you, consider learning more about the accelerated program at the Costa Rica School of Massage Therapy. As an accredited massage school, CRSMT provides all of the foundational knowledge and training needed to prepare for licensure in any state. Classes take place in a breathtaking, therapeutic environment with highly skilled faculty who are invested in student success. Contact an admissions counselor to find out about the massage certification program and continuing education opportunities.
---
The Costa Rica School of Massage Therapy and Yoga is the world's premier study abroad program for massage therapy and yoga. We offer both a 600 hour and a 700 hour COMTA Endorsed Curriculum Massage Therapy course which satisfies the licensing requirements for massage therapy in most of the United States. Additionally, we offer continuing education for massage therapists.
Request More Information