SARAH SHOEN, LMT
Instructor
Sarah is a graduate of the Costa Rica School of Massage Therapy, and is a full-time massage therapist in Newport, Rhode Island. She has owned and run her business, little bird wellbeing, since 2018. Sarah attended Rhode Island College and received a B.A. in Psychology and studied physical therapy at South College in Asheville, North Carolina prior to attending massage school. Sarah has returned to CRSMT, both as a teaching assistant and instructor.
With over ten years of collective experience, Sarah has developed her own style and technique with bodywork, based on mindful awareness and intuition. She is enthusiastic about learning, creating, and observing human connection, as well as embracing the art of imperfection and full-body acceptance. She is devoted to her work, clients, community, and students. She continues to develop the practice of mindfulness through manual therapy and meditation techniques. When Sarah isn't at the shop or teaching at CRSMT, she spends most of her time staring at the ocean, drinking too much coffee, camping, and reading.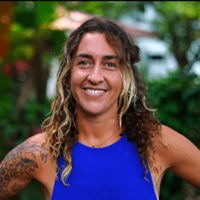 Sarah Shoen On A Touch of Costa Rica Podcast
Does a fond childhood memory hold the key to your future? CRSMT instructor Sarah Shoen shares how her positive experiences with physical touch as a child led her on a journey to using her hands to help others.
You'll also learn about one of Sarah's memorable experiences in Samara Beach.
COURSE OFFERINGS AT CRSMT
Committed to excellence, and maintaining the tradition of massage as an art form; the education at our massage school balances the sciences of the human body, the artistic techniques of massage and bodywork, modern business strategies, and holistic lifestyle principles.