VICTORIA MOUTAHIR, LMT
Instructor
Victoria is a board-certified, Rhode Island-licensed massage therapist. She has been in practice since 1998 in Providence, and owns and operates two Body Kneads, Inc. locations in Providence and East Greenwich.
Her teaching career began in 2004 and her education includes a B.A. in Psychology from the University of Rhode Island and a Master of Science in Nutrition from Northeastern University. As an adjunct faculty in the CCRI Rehabilitative Health Department, she teaches courses in the Therapeutic Massage Program. She also coordinates and supervises the student massage clinic and teaches the Nutrition Basics course as well. Her broad spectrum of knowledge includes certifications in orthopedic and medical massage, myofascial release, manual lymphatic drainage, and craniosacral therapy. She has also run businesses for over 20 years.
Victoria's passion for education over the past decade has been fueled by the transformation of her students through their willingness to challenge themselves and step out of their comfort zones to achieve their goals.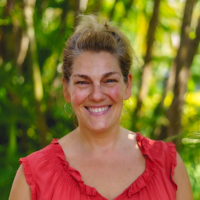 Victoria Moutahir On A Touch of Costa Rica Podcast
CRSMT instructor Victoria Moutahir shares how a post-workout massage referral transported her to a 25-year career teaching students, mentoring young professionals, and educating decision-makers on the massage business.
Also, she reveals her favorite daily routine when she's in Samara.
COURSE OFFERINGS AT CRSMT
Committed to excellence, and maintaining the tradition of massage as an art form; the education at our massage school balances the sciences of the human body, the artistic techniques of massage and bodywork, modern business strategies, and holistic lifestyle principles.