Costa Rica celebrated a very special day on September 10, Children's Day! The below article from The Costa Rica News shares some information on the history and importance of this day.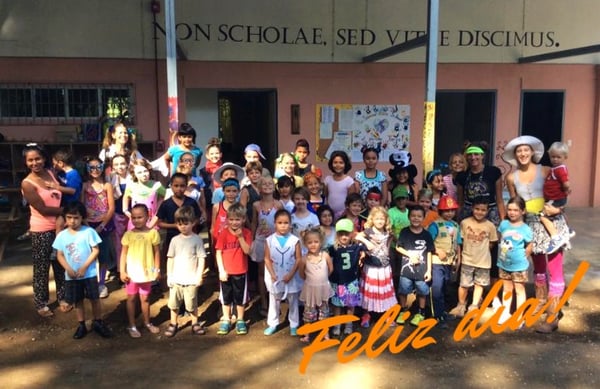 Photo by: Johannah Waite, featuring the students and staff of Samara Pacific School as they celebrated with a crazy dress day. Fun!
While El Dia del Niño is certainly a time for playful celebration, many have forgotten the important reason behind National Children's Day.
Costa Rica was one of the first countries to celebrate Children's Day. Since 1946 when President Teodoro Picado Michalski approved the initiative set forth by the National Children's Trust (PANI), the El Dia del Niño has been a day of festivities in schools every year on September 9th.
Eight years after Costa Rica began celebrating, the United Nations made a formal recommendation that all countries do the same. Governments were left to designate a date as each nation saw fit, but the goal was universal: Children's Day was a time to observe and promote the welfare of the children of the world. From U.N.'s point of view, special emphasis would be given on the issues highlighted in the Declaration of the Rights of the Child (1959) and the Convention on the Rights of the Child (1989). Within a year of the UN's proposal, 40 countries had signed-on.
What are the Rights of a Child?
"Nearly 25 years ago, the world made a promise to children: that we would do everything in our power to protect and promote their rights to survive and thrive, to learn and grow, to make their voices heard and to reach their full potential."
Read full article here: Happy Children's Day in Costa Rica!
---
The Costa Rica School of Massage Therapy is the world's premier study abroad program for massage therapy. We offer a 600 hour to 750 hour COMTA Accredited Massage Therapy course which satisfies the licensing requirements for massage therapy in most of the United States. Additionally, we offer continuing education for massage therapists.